SPICES - MACE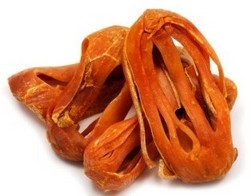 Mace is the dried aril, or lacy bright red to yellow covering, which grows between the nutmeg fruit and the Nutmeg Seed of Myristica fragrans, a tropical evergreen tree indigenous to the Banda Islands in the Moluccas of Indonesia.
Both spices are strongly aromatic, resinous and warm in taste. Mace is generally said to have a finer aroma than nutmeg, but the difference is small.
USES
Mace and nutmeg are very similar, though mace is somewhat more powerful. Mace is a lighter colour and can be used in light-coloured dishes where the darker flecks of nutmeg would be undesirable. A small amount will enhance many recipes, adding fragrance without imposing too much flavour. Mace works especially well with milk dishes and other various Vegetarian and Non Vegetarian Dishes. It contributes to flavouring light-coloured cakes and pastries also.